Amitabh Bachchan sends voice note to ailing comedian Raju Shrivastava; says, "It's enough Raju. Rise up Raju"
Earlier this week news broke that popular comedian Raju Shrivastava had been been hospitalized after suffering from a heart attack. Currently admitted to Delhi's AIIMS hospital, reports claim that the comedian's brain has not been functioning normally, due to which he has been kept under observation. However, despite this the latest update on his health was that he had shown slight movement and was marginally improving. While the comedian recovers, veteran actor Amitabh Bachchan, who has in the past had his share of health scares, decided to send Shrivastava a voice note, wishing him a speedy recovery. Though Shrivastava's family have not yet made the note public, the audio clip was played to the comedian after consultation with the doctors. As per the audience clip, it is reported that Amitabh Bachchan can be heard saying, "It's enough Raju. Rise up Raju, and keep teaching us all to laugh." As for the comedian, social media has been buzzing with rumours of his demise. However putting those to rest, Shrivastava's family released a statement which read, "Dear all Raju Srivatava ji's condition is stable. We are praying for his speedy recovery. The doctors are treating him and are doing their best. Thanks to all the well-wishers for their continued love and support. Please ignore any rumour/fake news being circulated. Please pray for him". Also Read: Raju Srivastava suffers a heart attack; best friend and comedian Sunil Pal assures fans that he is recovering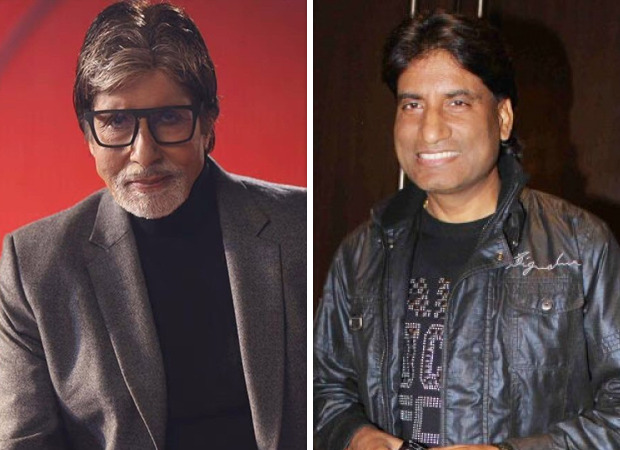 Earlier this week news broke that popular comedian Raju Shrivastava had been been hospitalized after suffering from a heart attack. Currently admitted to Delhi's AIIMS hospital, reports claim that the comedian's brain has not been functioning normally, due to which he has been kept under observation. However, despite this the latest update on his health was that he had shown slight movement and was marginally improving. While the comedian recovers, veteran actor Amitabh Bachchan, who has in the past had his share of health scares, decided to send Shrivastava a voice note, wishing him a speedy recovery.
Though Shrivastava's family have not yet made the note public, the audio clip was played to the comedian after consultation with the doctors. As per the audience clip, it is reported that Amitabh Bachchan can be heard saying, "It's enough Raju. Rise up Raju, and keep teaching us all to laugh."
As for the comedian, social media has been buzzing with rumours of his demise. However putting those to rest, Shrivastava's family released a statement which read, "Dear all Raju Srivatava ji's condition is stable. We are praying for his speedy recovery. The doctors are treating him and are doing their best. Thanks to all the well-wishers for their continued love and support. Please ignore any rumour/fake news being circulated. Please pray for him".
Also Read: Raju Srivastava suffers a heart attack; best friend and comedian Sunil Pal assures fans that he is recovering